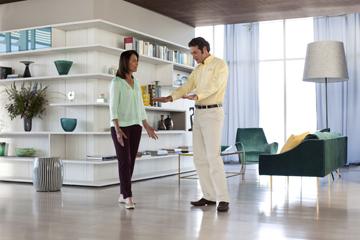 Lexington Hardwood Flooring
Hardwood floors offer a luxurious look combined with durability that will leave you with a beautiful floor for years to come. Available in a variety of species and finishes, hardwood flooring is as adaptable to your space as you need it to be. At Floor Coverings International Lexington, our design associates can create a custom hardwood flooring pattern that fits your room perfectly. Diagonal, herringbone, borders, and other patterns add interest to a room and take a hardwood floor from beautiful to extraordinary.
Many Lexington residents are turning to hardwood flooring not only because of its elegance, but also because of its durability and low maintenance requirements. Hardwood flooring is also not as expensive as it used to be. At Floor Coverings International Lexington, we have the knowledge and expertise to answer any of your questions about the variety of different hardwood flooring options available. We bring the showroom to your door and during our free, in-home estimate, our design associates will sample thousands of hardwood varieties to find which style best fits your style and budget.
Our expert Lexington hardwood floor installers handle a variety of types including:
Walnut Wood Flooring
Oak Wood Flooring
Engineered Hardwood Flooring
Cherry Wood Flooring
Maple Wood Flooring
Hickory Wood Flooring
Ash Wood Flooring
Birch Wood Flooring
Pine Wood Flooring
Douglas Fir Wood Flooring
And Much More!
While sometimes hardwood floors can be a bit more expensive than other flooring options, consider however, that your hard wood floor, with a little maintenance can last for the lifetime of the house. Also consider that homes in the Lexington, area with wood floors often sell quicker and at higher prices, and you begin to see the value of investing in a hard wood floor.
Here are some things to consider when choosing a hardwood floor for your Lexington area home.
Lifestyle Choice:
Hardwood flooring does not retain dust, pollen, and other allergens.
Regular sweeping is generally all that is needed to keep hardwood floors looking great.
Hardwood flooring is durable and can potentially last many lifetimes.
Style Choice:
Hardwood floors add a warm, natural look to formal, relaxed, or modern looks and almost every style in between.
Wood flooring is available in a wide range of species, finishes, and widths to create specialized looks for almost any room.
Also consider that:
Periodic refinishing and scuff/scratch repair may be required to keep hardwood flooring looking its best.
Footsteps and ambient echoes can cause rooms with hardwood flooring to be noisy. Area rugs are often used to counter this effect.
In general, wood flooring is not recommended for rooms or areas subject to water or moisture exposure.
Contact us today at 859-740-1170 to receive a free estimate for your Lexington hardwood flooring project.